At Ray White Nundah, we are dedicated to serving our community.
Here are just a few people we have had the pleasure of helping.
If there is anything we can help you with, please call us on 07 3266 2055.
I recently purchased a property through Aaron. As a result, my experience was unpressured, informative, genuine, sincere and accommodating. Given this we also decided to sell our existing home through Aaron. Our results were very pleasing which I put down to his honesty and appropriate communication to both us and the prospective purchasers. He is not a real estate sales agent, but a great bloke who just happens to sell real estate…..very well. Highly recommended for those who want a genuine person, a great result and a pleasant experience without the ego. Mark & Rachel – Virginia
We have bought and sold a number of properties in the past twenty years and dealt with many real estate agents and agencies. Working with Scott Freeman to close this sale has been the best purchasing experience we have ever had. He was professional, responsive and considerate – and we had a strong sense he conducted himself according to that code for both the buyer and the seller. Our transaction was completed with a minimum of fuss but even so, Scott went beyond the call of duty to assist us through a couple of minor difficulties.
Thank you, Scott, for your competence and for your fine customer service. You are a credit to your agency and an exemplar for how ethical real estate transactions can proceed.
Anne-Marie & Nell – Banyo – 7th January 2016
Loved working with Anthony. He is a true professional who openly showed his passion and love for his job through his proactive approach and open and honest communication.
Anthony and his office made the selling of my first home easier and stress free, I can not thank them enough.
Amie – Taigum – 5th January 2016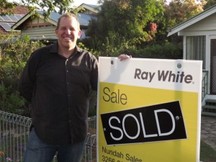 Anthony and the team at Ray White Nundah were excellent to deal with.
Both friendly and professional, Ray White Nundah were instrumental in helping us find a home.
Cheers,
David
The Clark Brothers
Many thanks for a job well done in the sale of our property at Nundah.
We realise the many obstacles you faced – probably from both sides – but you came through with flying colours.
Be assured your efforts were much appreciated.
Thanks for your perserverence and continued good humour in what must have been some trying times.
Be assured any further real estate transactions we undertake will be certainly offered first to you and your company.
Once again many thanks and best wishes for the future.
Alex F
Thank you for your support and patience in helping us purchase our home.
Samuel and Katie
The Clark Brothers
Scotty and I would just like to thank you for all the work you put into selling our unit at Queens Road, Clayfield. We are very happy with the price you achieved for us and level of commitement and professionalism you showed during the sale process.
I'm sure it made your job harder due to the fact that we live in Cairns and the fact that the unit is tenanted however you made the whole sale process smooth and seamless. From the first moment we listed the property with Ray White Nundah you kept us well informed of all details related to the sale process. We were very impressed with the prompt manner in which you phoned to let us know the outcomes of the open house inspections, especially due to the fact that it was often late on a weekend.
We were also impressed with the kind and caring way you dealt with one of the prospective buyers. It was an elderly gentleman who loved the unit and really wanted to buy it. However the unit may not have been the best investment for his future due to the four flights of stairs in the building. The time you spent with this gentleman discussing the suitability of the unit for him was heart warming. While ultimately it is an individuals choice whether to buy or not, another more aggressive Real Estate Agent may have dealt with the situation differently leading to the gentleman buying a unit which was not suitable for him. We certainly did not wish to make a profit at the detriment of another person and thank you for ensuring our unit was sold to suitable buyers.
As you are aware we also have another unit in Nundah which we had on the market at the beginning of the year. Unfortunately we chose a different Real Estate Agent to sell this property for us and the property did not sell. Whilst there could be many reasons for this we certainly regret not listing the property with you as we believe your skill in real estate sales would have led to a successful sale. If we choose to sell another of our properties in the future we will definitely list the property with you.
Once again thank you so much for the time and effort you put into selling Queens Road.
Kind Regards
Bronwyn and Scott
The Clark Brothers,
We would like to thank you for your recent successful efforts in selling our investment property at Stafford.
Having tried to sell the property on two previous occasions in the past 12 months, we knew that a different real estate agency and approach would be necessary.
In selecting you to act on our behalf we were able to achieve our goal of the sale of the property within a much shorter time frame…we are now able to realise other important goals and adequately plan for our future thanks to our property settlement.
Elizabeth & Michael – Stafford
Great team effort …
I am blown away with the level of professionalism, negotiation skills, patience, vision for marketing tools, ability to extract the best from your team, understanding of human nature, maturity, discernment, quality of advice without being pushy, leadership and perseverance that you showed throughout the campaign.
Your level of discretion and integrity was demonstrated unbeknown to you, by a friend of mine you had dealings with and later a conversation with me verifying these valued qualities that are so not common.
Jean – Nundah
Worth much more than we paid.
Since we invested in the marketing program you tailored to our needs, we actually sold at a price $235,000 above a recent registered valuation.
The result blew us away and we can't thank your team enough for their efforts.You even tracked us down in Carnarvon Gorge to get the deal done. Amazing!!
Tim & Vicki – Nundah
At the risk of sounding over enthusiastic, we would like to underscore how pleased we are with the service and the pursuant result provided by Clark Brothers Ray White… with regards to the sale of our Nudgee home.
Our experience with real estate agents has varied from poor to pretty good with it sometimes feeling like agents operate in the "dark ages".
It is amazing to us how some agents continue to exist, not withstanding how they operate "efficiently" and with "integrity". We are in no doubt, due to our experiences, that the strategy you implemented for our sale "hit the mark" with regards to our needs.
In fact, the strategy yielded an amazing result well in excess of our dream outcome. You should be regarded as the most professional dedicated "no bull" agents we have had the pleasure of dealing with over the last five years.
In the end, we could not be more pleased … and we find it hard to believe anyone would willingly select another agent to sell their home at the risk of a lesser result.
David and Lee – Nudgee
After 9 months on the market with another agent, the very capable Clark Brothers Ray White took over the marketing of our investment property. Incredibly, within just a week and a half, they had it sold. Thanks to the team, the selling process was made easy.
Their professionalism, knowledge and passion for real estate shone through, as he provided much needed guidance and insight into the market. Their thorough communication, right up until settlement, kept us informed every step of the way, and nothing was too much trouble – even while on holidays – a dedication much appreciated.
What more can we say – you sold our place in a week and a half! Thanks Team.
Julie & Eddie – Nundah